LCICon Boston 2023
Author: Secretary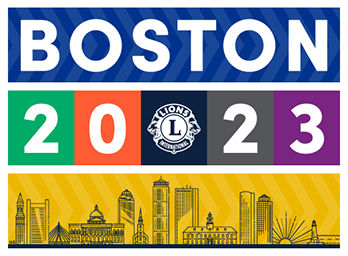 Every year, Lions and Leos from around the world gather in one place to celebrate the past, present and future of service. It's when we catch up with friends from around the world, see what's going on in the organization, and make decisions about the future.
What goes on at LCICon?
Fellowship & Service
LCICon is an opportunity for fellowship for Lions and Leos. It's the perfect place to reunite with friends and colleagues from around the world and experience service together.
The Exhibit Hall
At every LCICon, there's an Exhibit Hall. Walking around, you'll find a place to connect with Lions International staff, ask questions, learn about new resources. There are also opportunities to share your service stories, grab new gear in the Lions Shop, learn more about our digital products in the Tech Zone and see our foundation's impact and donate directly.
Plenary Sessions
The Plenary Sessions are one of the main draws at LCICon. During the three sessions, Lions hear from incredible keynote speakers, listen to leaders speak about what Lions have achieved — and what's coming next. And, of course, there's plenty of world-class entertainment to enjoy.
The International Election
LCICon is also the venue of the annual International Election, when certified delegates from clubs around the world cast their votes for the future leaders of the organization.
The Parade of Nations
The convention isn't all business. We also celebrate our diversity with a parade where Lions and Leos can showcase their culture and pride as they march together through the streets of the host city.

More info on LCICon website.

Tags: lcicon lci